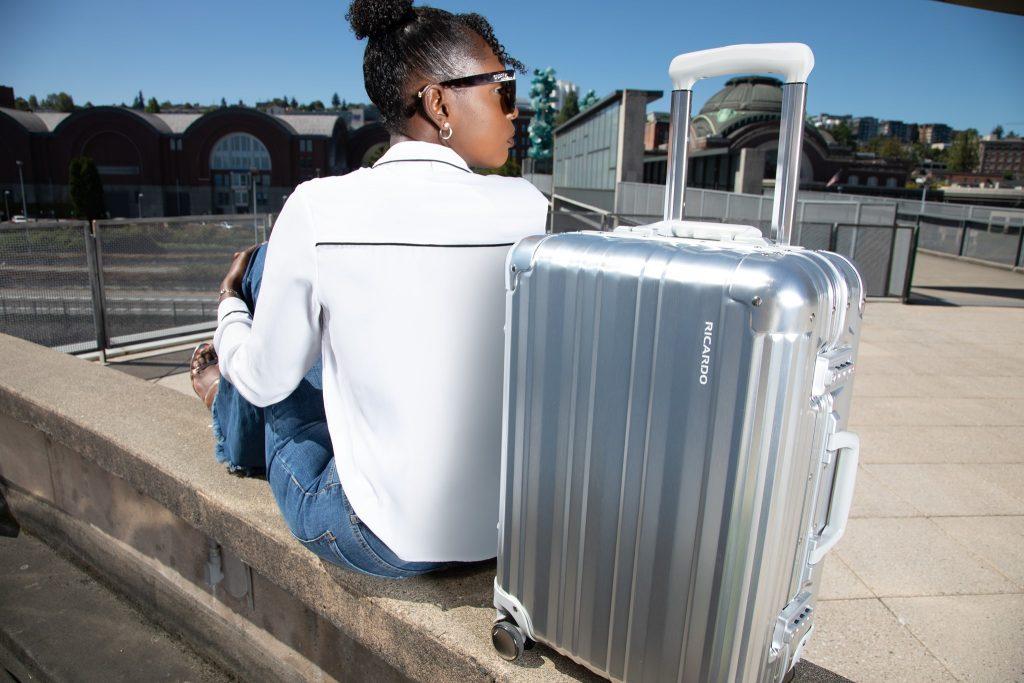 Ricardo Beverly Hills has pioneered design, innovation and marketing of luggage and travel accessory products with a vision to deliver the highest quality gear customers around the world. Globally recognized as a symbol of quality, Ricardo Beverly Hills is distributed on four continents in over 20 countries. Made by an American owned and operated company, Ricardo luggage is available online and at a selection of department and specialty stores.
The Ricardo carry-on bag comes packed with useful features such as large wide-opening mouth and turn locks on either side. Smooth rolling in-line wheels and a multi-stage locking handle system making maneuvering easy. Multiple zipper pockets keep clothes and small items separate and organized. Adjustable tie down straps keep possessions in place. The removable zippered pouch in carry-on luggage is functional, as is the removable ID card holder. Dual 360-degree spinner wheels make it easy to race through airports. Carry-ons come with thoughtful features such as a removable bag to meet TSA guidelines for storing toiletries, up to two-inch expandability, and exterior zippered pockets for easy access.
The hard side range from Ricardo luggage is constructed with a super lightweight polycarbonate shell that is durable and does not weigh the international traveler down. Padded Velcro sleeves secure laptops and tablets. The spinner wheel system provides excellent mobility. A retractable additional bag strap is provided for easy transportation of smaller second bags. Front pocket organizers keep small items from getting misplaced and the zippered front panel allows for partial opening of the main compartment.
Split construction cases provide two separate compartments to maximize organized packing. Durable and sturdy wheels make it easy for the busy traveler to push, pull or walk beside Ricardo luggage pieces. Elastic tie-down straps are standard features in check-in cases to keep items in place. Mesh dividers provide ventilation and see through division for easy retrieval of items. The interior is fully lined and large capacity with multiple pockets. Ricardo luggage is ergonomically designed with comfort and safety in mind. Textured grip handles provide a steady grip and easy maneuverability. Upright soft cases offer as much as two inches of expandability with an extra zipper for enhanced packing space.
The business rolling tote range from Ricardo luggage has 360-degree dual spinner wheels for easy mobility and a large front pocket with multiple pouches to keep things organized. Business cases come with interior padded sleeves to store and protect electronic devices. The main compartment features built-in shoe pockets and a zipper that can be completely or only partially opened. The garment carrier from Ricardo is fabricated with smooth microfiber polyester for durability and has a 180-degree opening to make packing easy. Tie down straps keep clothes from wrinkling, and comfortable handles afford a secure grip.
The Ricardo luggage range includes rolling city bags, carry-on bags, expandable lightweight cases, twin compartment luggage, rolling totes and duffels, upright check-in bags, garment bags and carriers, rolling garment bags and travel organizers. Ricardo luggage takes great pride in the quality of its products and offers a warranty that covers repair or replacement of manufacturing defects within the warranty period.